#1
The Great Antonio
(1925-2003) Nobody pulls buses with chains around downtown streets anymore. Such a loss. The Great One was known for sitting around places like the donut shop at Guy and St. Catherine selling big oversized self-glorifying postcards but also guested on Johnny Carson and had a role in the film
Quest for Fire
, (1981), feats he managed while simultaneously being penniless and unwashed.
#2
Le Pape de Verdun The Pope of Verdun, Andre Brabant. This soft-spoken ornately-clad weirdo would stroll around and bless people on Wellington Street and would sometimes guest on French talk radio shows. He collected welfare, ran for municipal office and said he'd been to the moon. He died in 1994.
#3
Bill Lee
A successful starting pitcher who ate marijuana pancakes, negotiated his own contracts, called one manager a "gerbil" and went on strike to protest the release of a teammate, leading to his own expulsion from major leagues.
***
It's the craziest, funniest, scariest and most insightful book ever written about Montreal. Absolute must-reading! Kristian Gravenor's
Montreal: 375 Tales of Eating, Drinking, Living and Loving
, order your paper copy
here now.
Available also at Paragraphe Books at 2220 McGill College and Librarie du Vieux Bouc at 3615 Ontario and 2884 Masson.
***
#4
Armand Vaillancourt Sculptor on Esplanade gained first notoriety by turning a tree on Hutchinson into a sculpture and ever since has hauled off various junk he finds into his overcrowded yard to re-purpose into art.
# 5
Renetsens (pronounced Renaissance) nightclub hero and "tall lanky junkie"was a Foufounes dancefloor fixture staring heroically and pointing at the lights. He'd use the women's washroom and was once seen French kissing a dog. He endured polio as a child, and once had an after hours bar in around 1986 and later a restaurant on Park before dying young of AIDS.
#6
Giant Jean Ferre, aka Andre the Giant, lived in Montreal from 1971 to 1973 to advance his wrestling career and kept a restaurant on Mackay even after he left. Said eventually to become the second most recognizable figure in the world. Drank copious amounts of booze, 117 beers in one sitting.
#7
Marie Lynn Levesque sported sexy clothing while running her Gaiety depanneur in Laval from about 1986 to 1988 and likely beyond.
#8
Maureen Marolly, from Pakistan, had a home full of Christian icons that would inexplicably get covered in oil all day long. It started in 1994.
#9
Rael, French racing car driver got kidnapped by aliens and moved to the Montreal-area to start a UFO-worshiping religion.
#10
Al Palmer wrote newspaper columns in an otherwise-dull Montreal Gazette relentlessly praising seductive showgirls and championing nightclubs which offered such entertainment. "There is no substitution for a pretty girl" "All those pretty girls, hoo boy!" Penned the novel
Sugar Puss on Dorchester Street
and
Montreal Confidential
(1950) in which he offered tips on where to purchase cocaine and explains that it's "not addictive."
#11
Claude Gagnon Montreal was a restless place with in the 1980s and 1990s where the ambitious aimed to make a buck through wacky inventions and sexy car washes, so this party-down preacher barely fit the bill by purchasing an old Protestant church on Papineau in 1980 and launching his Temple du Reveil, claiming to have almost 2,000 followers in Canada for a while. He danced and sang plenty.
#12
Ignatius Timoty Trebisch-Lincoln
lived in Montreal 1900-1903.
He
was born Jewish but spent his time in Montreal trying to get Jews to become Presbyterians. He became a British MP and then moved to Asia and became a Buddhist monk, all the while engaging in various spying and counter-spying stuff.
#13
Victoria Anvari Hyper-politicized McGill Biology department employee was fired in 1981 and took to standing on the concourse outside of the MacLennan Library at McGill loudly offering pro-Albanian Communist slogans and newspapers to all passersby.
#14
Dr. Louis Jacques ran a convent on Amherst after 1885 decorated with skulls chains and scourges in which cheerful teenage female devotees slept in coffins and were whipped frequently. (Read the full story about Jacques - and many others - in
Montreal 375 Tales
)
#15
Artist Monty Cantsin, aka, Istvan Kantor, launched his Neoist creed in Montreal in the 1980s and went on to undertake various stunts, such as launching his own blood onto other people's paintings and signing his name to other people's artwork. Now lives in Toronto.
#16
Yvan Vernchuck, a 53-year-old Russian, became known for sleeping in freezing caves on Mount Royal, clad only in his underwear in 1938.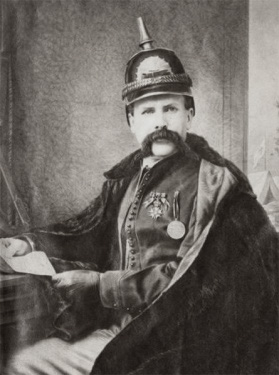 #17
Francis Tumblety humbly sported a pith helmet and medals when he arrived in Montreal in 1957. Sold abortion pills and showed off his collection of female body parts.
#18
Maurice Girouard
Attracted people to his temple in Ste. Marthe sur le Lac in 1986 by telling them his religious statues wept tears of blood.
\\